The State Museum Monument "Savior on the Blood"
The State Museum Monument "Savior on the Blood"
Address: 191011, St. Petersburg, nab Griboedov, 2a
Phone: Background - (812) 314-21-68, tour desk - (812) 315-16-36
Working hours: daily from 11.00 to 19.00, closed - Wednesday, May 1 to October 1, from 10.00 to 20.00, box office closes at 19.00.
This temple attracts glances of passers-by - their bright domes, exquisite mosaics, he even came to us as if from a fairy tale. And he is so comfortable that you will not pass by - near the Russian Museum, the Maly Opera Theater, in contrast, across the Nevsky prospect - the colonnade of the Kazan Cathedral. Those who are interested in the history of St. Petersburg, knows that the story of its construction was tragic.
Church of the Savior on the Blood from the outset conceived not as a religious building. It was erected in 1907 by Alexander III at the very spot where his father was killed as a memorial of this tragic event.
Since 1918, the church has lost its original and basic meaning - nationwide memorial monument to Alexander II, and was used exclusively as a cult object. Since then, the fate of the church is becoming more and more dramatic. First, the Savior on Blood is declared of no value, no artistic or historical and long standing empty. Then, during World War II, he turns into a morgue, and at its end - in the dock of the Maly Opera Theater. All this time, no major repairs or maintenance of buildings at least in more or less decent as nobody had ever done. Moreover, for all these years, several times the action planned for the destruction of the temple. Fortunately, none of them did not take place.
However, the Savior on the Blood safely destroyed to himself due to inadequacy of the criminal exploitation and lack of proper care, though in 1968 it finally did not take custody of the State Inspectorate for Heritage Protection. Three years later the church passed to the museum-monument "St. Isaac's Cathedral" and becomes its subsidiary. From this moment begins overhaul of the building, and at its end - the active restoration.
Museum-Monument "Savior on Blood" was opened in 1997. Now anyone can go inside and admire the amazing mosaic carpet icons and ornaments of the temple, completely covering its internal space. And every passer-by can admire figured aprons covered with jewelry enamel domes, colored tile mosaic emblems and the Russian Empire that adorn the bell tower of the church.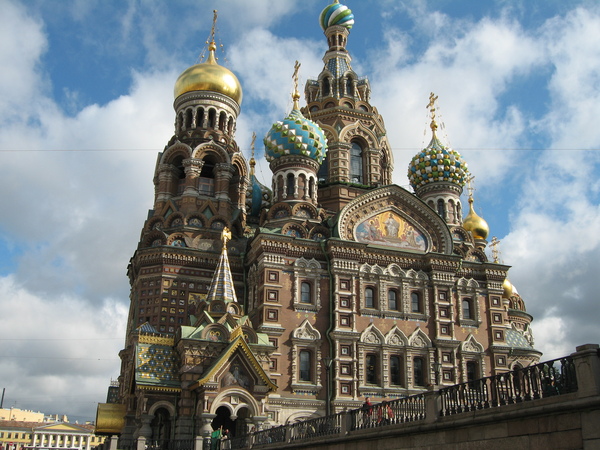 Site

Navigator
The State Museum Monument "Savior on the Blood"
We

offer to visit in Saint-Petersburg