Memorial Museum-Flat of Rimsky-Korsakov
Memorial Museum-Flat of Rimsky-Korsakov
Address: 191011, St. Petersburg, Ostrowski, 6
Phone: (812) 713-3208, 315-3975
Mode of operation: Daily from 11.00 to 18.00, except Monday, Tuesday and last Friday of every month
Currently, the museum-apartment of Rimsky-Korsakov - is the only one in St. Petersburg museum dedicated to the composer. In these halls a great composer spent his last fifteen years. It was here that he created most of his operas, and in particular such masterpieces as "Sadko," "The Tsar's Bride," "The Tale of Tsar Saltan", "Golden Cockerel" and "Kashchei immortal."
In the house of Rimsky-Korsakov was concentrated a large part of the city's cultural life. There has always prevailed a lively creative atmosphere that regular visitors of Rimsky-Korsakov were the famous singers, painters and composers - Chaliapin, Repin, Serov, Rachmaninov, Glazunov ... On Wednesdays, there were musical evenings, which have been actively involved many members of the creative elite of St. Petersburg.
After the Rimsky-Korsakov died, apartment for half a century has turned into communal. Still standing there with the composer's life furniture and other furnishings are preserved, as well as personal belongings of Rimsky-Korsakov. All this for many years took care of his descendants. It is for their initiative in December 1970 in the former apartment of the composer's museum was opened.
Now visitors can see four memorial rooms - hall, lounge, dining room and office. Also, two apartments occupy the rest of the Hall - Exhibition Hall, which displays a variety of exhibits illustrating the life and work of Rimsky-Korsakov, and a small concert hall, where concerts are organized performances Singers and soloists symphony orchestras, concerts, young and novice performers.
Rimsky-Korsakov's office is filled with expensive things for him. Here is a piano brand, "Becker," which keys your fingers famous colleagues Rimsky-Korsakov music shop - Glazunov, Rachmaninoff, Scriabin, Stravinsky, and, of course, his own. Here you can see the table at which he worked composer and chair in which he liked to sit. The walls are hung with portraits of the dining room of his ancestors, a dining table is decorated with souvenirs and inscribed flatware.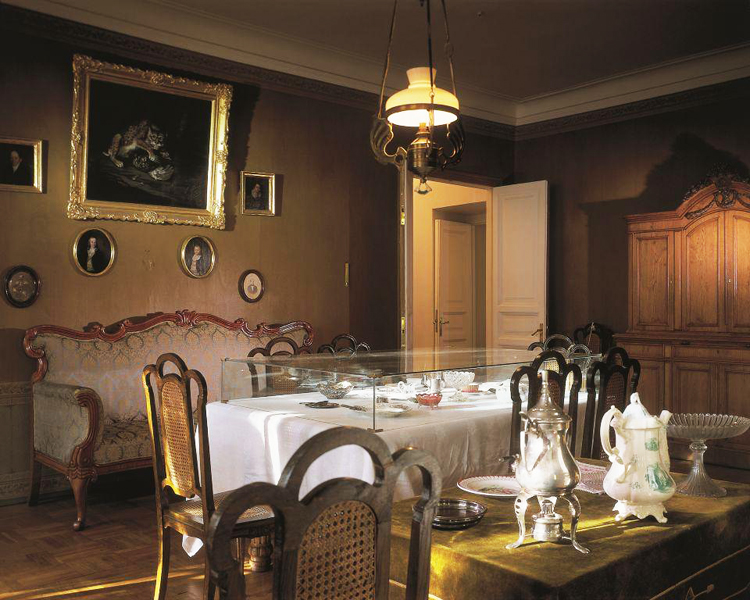 Site

Navigator
Memorial Museum-Flat of Rimsky-Korsakov
We

offer to visit in Saint-Petersburg