Memorial Apartment Museum of Academician IP Pavlova
Memorial Apartment Museum of Academician IP Pavlova
Address: 199034, St. Petersburg, Vasilevsky Island, 7th Line, 2, Apt. 11
Phone: (812) 323-7234
Work schedule: Monday, Wednesday and Friday from 11.00 to 17.00
The apartment is number 11 in the second house on the seventh line of Basil Island Pavlov spent the last 18 years of his life. In those days the house was called the "academic". It was built under Peter I and from the outset given the Academy of Sciences. This building could boast of many famous residents - except Pavlova lived here academicians Jacobi, Vernadsky, Kovalevsky, and many other eminent scientists. At present the facade of the building adorned with plaques dedicated to those who lived within these walls.
Memorial Museum in the apartment of the famous physiologist, was established by his widow, Serafima Vasilyevna a few years after his death. All things belonging to Pavlov, his library and collections were saved by his wife and daughter in a safe and survived the Great Patriotic War, and in 1949, the day of the centennial of Pavlov, the opening of the museum.
The memorial exhibition of the museum occupies three rooms.
Living room lined with mahogany furniture, made in the XIX century, decorated with a fireplace, high, high walls, mirrors, hanging between the windows. In addition, visitors can see an old piano, "Becker" and a massive bronze chandelier. On the walls hang pictures of the living collection of Pavlov. Collecting art has become the most passionate hobby in his mature years. Here you can see the real work of the Wanderers and albums with reproductions of their paintings.
The next room apartment divided into two parts, one of which is the office of Pavlov and the other - the bedroom. Partition between them are carved oak cabinets, which are books from his personal library of the outstanding scientist. In the study of Pavlov, a large writing desk, antique lamp stands, inkstand, which was used by the scientist, photos of his friends and relatives. Near the desk is a table of Pavlov's wife. In the bedroom, hang reproductions of paintings of the Madonna and Child.
The walls of the dining room decorated with wood and hung with pictures, too. The biggest interest is the collection of butterflies and beetles collected by Pavlov.
The museum offers lectures, there is a permanent exhibition on the life and work of Pavlov.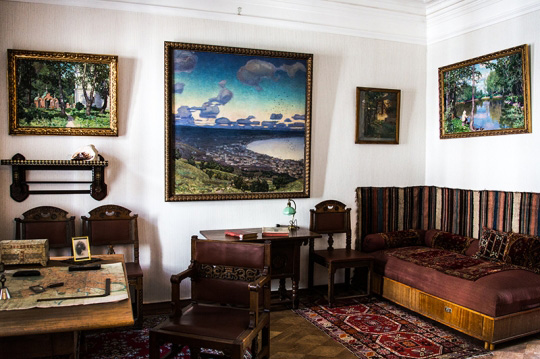 Site

Navigator
Memorial Apartment Museum of Academician IP Pavlova
We

offer to visit in Saint-Petersburg