The Grand Kremlin Palace
The Grand Kremlin Palace, built by order of Nicholas I, was conceived by him as a monument of Russian history and military glory. Its construction began in 1838 and ended eleven years later. In the creation of the palace, along with the famous St. Petersburg architect Konstantin Ton involved eminent architects, painters and sculptors of the time. His main facade of the Grand Kremlin Palace in Moscow, comes the river, and it goes to the entrance of the Annunciation Cathedral Square Kremlin.
Five state rooms of the palace, on a plan of Nicholas II, were devoted to the Russian orders, with elements of design are closely related to each audience: St. Andrew, St. George, Vladimir, Alexander and Catherine. Throne room in the nineteenth century was the Andrew Hall, the massive reconstruction work that took place in the 90s of last century. Currently, Andrew Hall of the Grand Kremlin Palace - located in the most important state events.
Today, the Grand Kremlin Palace - is a grand residence of the Russian president.
Excursions in the Great Kremlin Palace - one of the brightest and most interesting of all trips in the Kremlin. Tours to the Grand Kremlin Palace is often combined with a visit to the Faceted Chamber and the king's house. All those wishing to visit these places, remember that for a hike in the Grand Kremlin Palace, you should have a passport.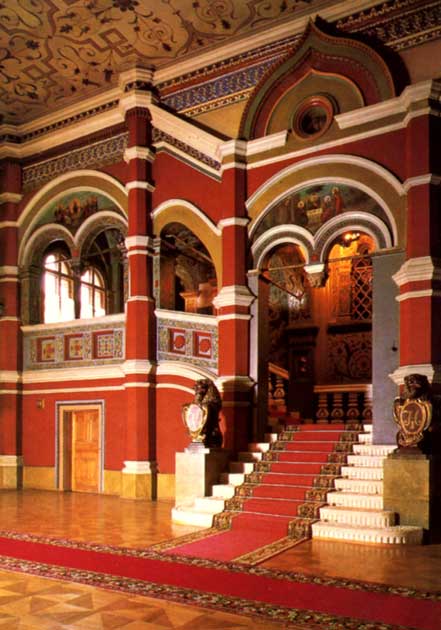 We

offer to visit in Moscow