St. George Cathedral
The first church on the mountain with a cave monastery built in the XIII century Galician-Volyn prince Lev D. Vasylko for his uncle, who decided to retire secular and devote his life to serving God. Ensemble Modern rococo built in 60 years of XVIII century architect Bernard Meretin. Brought up in the spirit of Western European architectural tradition, the erection of the temple Meretin also used the Ukrainian tradition of sacred art.
Passing through the gate, decorated with allegorical figures of the Roman and Greek churches, you get to the big yard of the house. On the left stands the Cathedral of the main facade portal and powerful figures of Saints Athanasius and Leo Sheptytsky - the bishops, to whom and owes its existence to the sanctuary. Attic above the portal is crowned with sculptures of "George the Serpent Fighter". This brilliant work of the artist John Pinsel, the best example of Lviv XVIII century sculpture, which stands alongside the masterpieces of world sculpture.
Interior is impressive richness and diversity of iconography. Worth mentioning is the outstanding activity of artist Luke XVIII century Dolinsky, "he painted icons of the altar with figures of prophets and outstanding images nobleness treated from the perspective of humanism. In Kyoto, the left nave must inspect valuable relic - Terebovlyansky icon of Our Lady of the XVII century. 1663 from the eyes of God 40 days tears flowed as a warning of the Turkish siege of the city. Icon cried the second time in 1704 when the Swedish King Charles XII invaded Lvov. To this day the icon covers silver chasuble, spravlena Terebovlya abbot of the monastery.
In the underground of Cathedral - crypt - are sarcophagi most outstanding figures of the Greek Catholic Metropolitan Andrey Sheptyts'kyi and other hierarchs.
Opposite the cathedral stands Metropolitan Palace, built by the architect Fesinger in the XVIII century rococo classicism with some blotches. Apartment Palace have a rich finish. On the other hand stands the temple bell, which hangs the oldest bell in the whole Ukraine. The inscription on it is dated 1341 and shows the year of military hardship ancient times. In the eastern terrace of the temple court was called grand view of the city.
. St. George Cathedral symbolizes the sanctuary, which the Ukrainian land bridge connection was great achievements of Christian culture and spirituality of two branches: the Byzantine East and Latin West.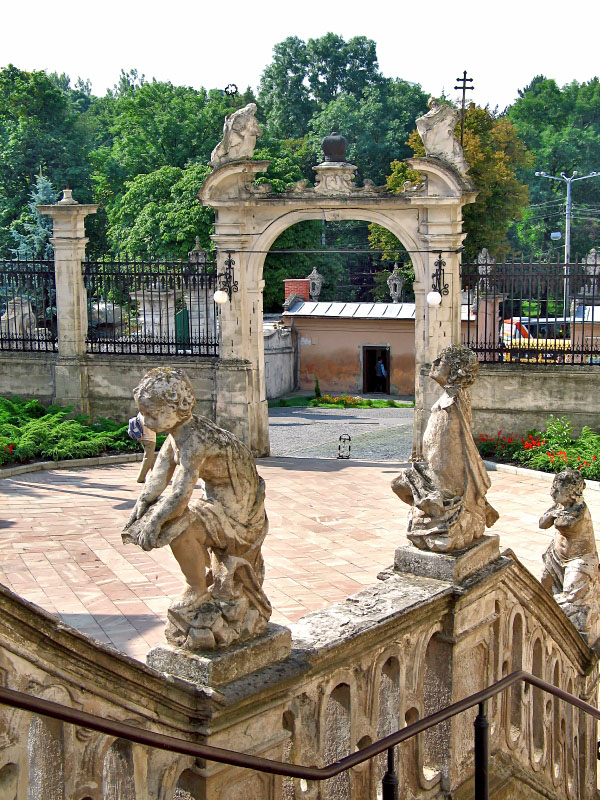 We

offer to visit in Lvov