Latin Cathedral
From Gothic through Renaissance and Baroque elements and then to Classicism and Secession passed its way Lviv Cathedral. But surprisingly we do not feel is eclectic: different styles of different ages do not cry, do not nadiymayutsya and do not argue with each other. Passage of time agreed architectural harmony layers times and turned them into great perfect image.
From the gothic XIV-XV centuries Lviv Cathedral inherited elongated ogive arches, vaults and windows are decorated with modern stained glass early twentieth century. Renaissance chapel Kampianiv beginning of the XVII century, decorated with beautiful stone carving scenes from the Gospels. The Baroque church has provided complete restoration work carried out in 1760-1778 years.


On the east wall of the temple of the Galician side of the street we see images of icons on the inscription. The inscription tells us of the tragic and moving story that occurred in Ukraine more than four centuries ago. 1598 died of incurable disease 9 years Katrusia, Wojciech Domagalychi burgher's daughter. Grandpa girl famous Lviv geometer, Joseph Vol'fovych, heartbroken, painted and installed on the wall the church image of Our Lady of sweet. This image is a copy of the original.


At this eastern wall see Lang family tombstones Lviv merchant family Scholz-Vol'fovych of XV century. She remained liquidated at the end of XVIII century cemetery, which surrounded the cathedral, and on the north wall you can see the sculptural composition of the Holy Sepulcher from the XVI century.


The nuclei contained within the walls of the Cathedral from the eastern side, reminiscent of the severest of the Turkish siege of the city 1672. Most kernel which hangs on the side where the tram tracks, reminds us of the events says: «Ex obsidione turcica», ie the Turkish siege, AD 1672, on 28 September.


Shell, located in the wall above is the inscription «Ex obsidione ruthenorum» (Ukrainian siege on March 5, 1919) and recalls the Ukrainian-Polish war of 1918-1919.

In Lviv, you can visit the Cathedral liturgy in the Latin rite.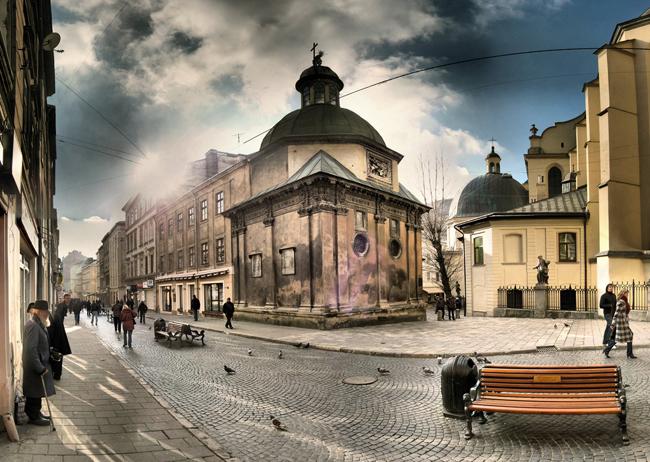 We

offer to visit in Lvov